Chatpoints
October 19, 2014 in Blog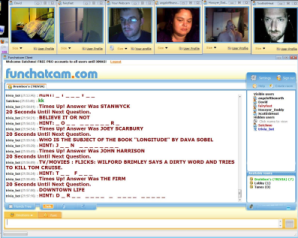 As some of you may know, chatpoints have been running for a while now. The longer you are in chat the more chatpoints you earn. Today we have been working on a page that shows the top 10 users with the most chatpoints.
We're working on ways to reward our regular chatters so watch this space for some great prizes and gifts. If you have any ideas, please let us know!
You can see the current chatpoints page here: http://www.funchatcam.com/chatpoints
If you want to see your individual chatpoints they are also on your profile page.
Anyone who had existing chatpoints have had them reset to zero to make it fair for all users.
Get earning those chatpoints!